Register for free and watch all movies and TV series without ads in 1080p HD Quality.
Register Now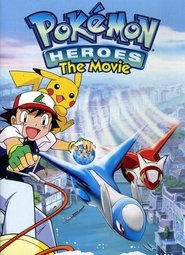 Pokémon Heroes: The Movie (2002)
Satoshi, Pikachu and his friends try and stop a pair of thieves hiding out in the canals and alleyways of Altomare, the age-old water capital. Joining the adventure are two new legendary Pokémon, a pair of siblings named Latias and Latios, who serve as peacekeepers and protectors of the Soul Dew – a priceless treasure with a mysterious power.